Bucket list 2017
04 January
I just wanna go on more adentures. Be around good energy. Connect with people. Learn new things. Grow.
Hi peeps! It's crazy how fast time flies - yet another year has come to an end! Is it just me or does time go wayyy faster each year as we grow older and older?
Moi ihanat! Hullua miten nopeasti aika menee - jälleen loppui yksi vuosi ja alkoi uusi! Tuntuuko teistäkin että aika menee vanhetessa yhä vain nopeammin ja nopeammin?
2016 was a very eventful year for me and I feel like I grew a lot as a person! I went through some difficulties, such as my first proper breakup, which made me a lot stronger. However, I also experienced lots of success in terms of landing a really nice summer job and being accepted to each school that I applied to! I got really passionate about health and fitness, and probably sweated more in my life than in all the previous years combined, haha. I also got to move to one of my favorite cities in the world, and had the funnest and craziest time with new friends from school exploring Amsterdam and enjoying student life (while getting a bit sidetracked from the healthy living, though...).
2016 oli minulle hyvin tapahtumarikas vuosi ja tuntuu että kasvoin paljon ihmisenä. Kohtasin joitakin töyssyjä matkan varrella, kuten ensimmäisen kunnon eroni parisuhteesta, mutta myös onnistumisia, sillä sain tosi ihanan kesätyöpaikan ja minut hyväksyttiin jokaiseen kouluun mihin hain! Innostuin ihan erityisesti liikunnasta ja hyvinvoinnista, ja hikoilin luultavasti enemmän kuin kaikkina edellisinä vuosina yhteensä, haha. Sain myös muuttaaa yhteen lempparikaupunkiini maailmassa, ja vietin hullunhauskoja hetkiä uusien kavereiden kanssa ympäri Amsterdamia (vähän tosin lipsuen raiteilta terveellisen elämän suhteen...).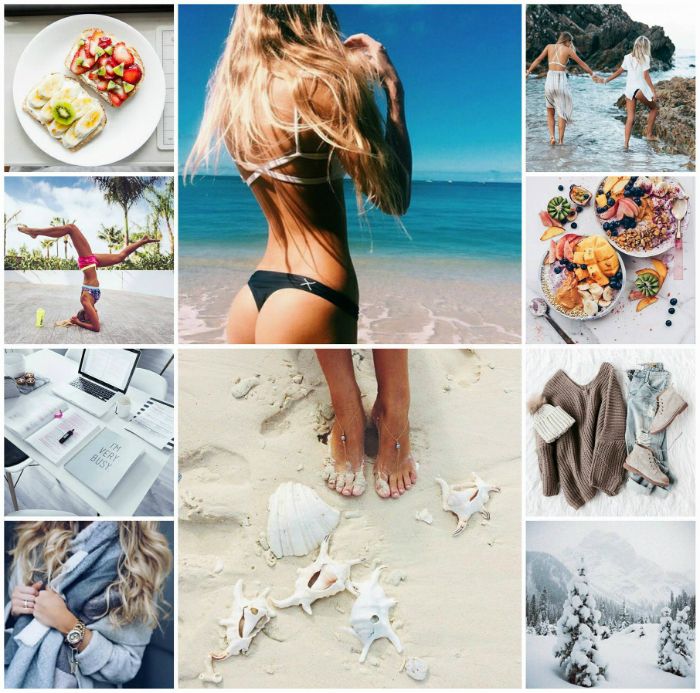 Each year I get closer to knowing who I am as a person and what I want from life. I'm so excited to see what 2017 will bring! I have a feeling that this year will be a good one! It's funny how a concept that humans have created (of a new year and "a fresh start") can somehow make me feel so much more enthusiastic, motivated and organized, but that has happened anyways! Down below I've listed some things that I wish to do this year! ♡ Bring it on, 2017!
Joka vuosi opin lisää itsestäni ja siitä mitä haluan elämältäni. Mulla on tosi hyvä fiilis tämän vuoden suhteen - en malta odottaa mitä kaikkea 2017 tuokaan tullessaan! Hassua kuinka ihmisten keksimä konsepti uudesta vuodesta ja "puhtaasta alusta" voikin saada minut tuntemaan niin paljon innostuneemmaksi ja motivoituneemmaksi kuin mitä esimerkiksi viime viikolla. Tähän postaukseen olen listannut asioita jotka haluan toteuttaa 2017! ♡


In 2017 I will... / Vuonna 2017 aion...
♡ read at least one book every month, preferably more! / lukea vähintään kirjan kuukaudessa, mieluummin toki enemmän!
♡ go see Beauty and the Beast in the movies. / mennä katsomaan Beauty and the Beast leffateatterissa.
♡ complete Kayla Itsines' Bikini Body Guide at least once more! / tehdä Kayla Itsinesin Bikini Body Guiden vähintään kerran.
♡ try out a new restaurant/café in Amsterdam every month. / kokeilla uutta ravintolaa tai kahvilaa Amsterdamissa joka kuukausi.
♡ celebrate my 21st birthday! / juhlia 21-vuotis synttäreitäni!
♡ stay in contact with my friends in Finland and Australia better than before. / pitää paremmin yhteyttä kavereihini Suomessa ja Ausseissa.
♡ have a Disney movie marathon. / pitää Disney-leffa maratonin.
♡ travel somewhere warm with my friend group! / matkustaa jonnekin lämpimään kaveriporukkani kanssa! (aikaisemmin tarkoituksena oli mennä Turkkiin, mutta en tiedä uskaltaako sinne enää lähteä...
♡ send more letters and post cards to friends and family. / lähettää enemmän kirjeitä ja postikortteja ystäville ja perheelle.
♡ pass the first year of school. / läpäistä ensimmäinen kouluvuosi.
♡ travel to at least 3 countries (excluding Finland and the Netherlands). / matkustaa vähintään kolmeen maahan (Suomea ja Hollantia laskematta)
♡ try out a new recipe every week! / kokeilla uutta reseptiä joka viikko!
♡ live a week completely vegetarian. / elää viikon kasvissyöjänä.
♡ go sing karaoke. / mennä laulamaan karaokea.
♡ run 10 kilometers. / juosta 10 kilometriä.
♡ go listen to some live music. / mennä kuuntelemaan livemusiikkia.
♡ try out yoga classes! / kokeilla joogaa!
♡ educate myself more when it comes to healthy eating and living! / oppia vielä paljon enemmän terveelliseen ruokavalioon ja elämään liittyen!
♡ have an amazing 2017! / viettää mahtavan vuoden 2017!
What kind of things do you want to do and accomplish in 2017? Share them in the comment box below if you'd like, I would like to hear your goals! :)
Mitä kaikkea te tahdotte tehdä ja saavuttaa tänä vuonna? Jakakaa ihmeessä ajatuksianne kommenttilootassa, mua kiinnostaisi kuulla teidän tavotteita! :)