Guilt-free chocolate bliss balls
07 January
You can't buy happiness, but you can buy cupcakes and that's kind of the same thing.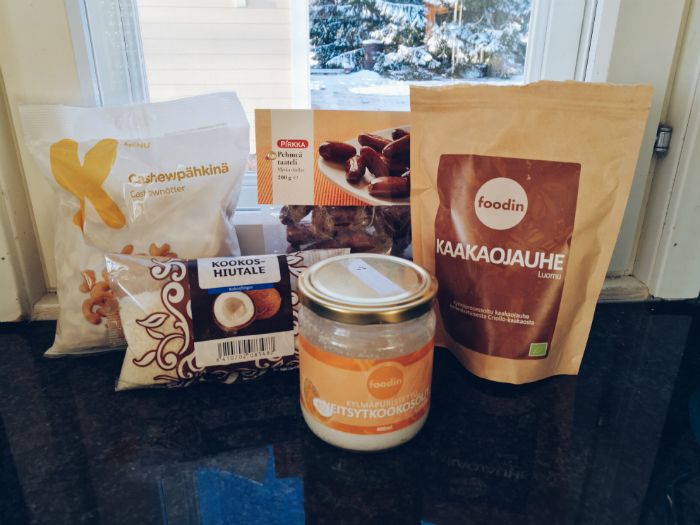 This recipe is for those of us who wish to lead a healthy lifestyle but find themselves constantly craving chocolate or something else sweet! I am definitely a huge sweet-lover myself and I could probably easily eat an entire chocolate bar in a row, but since I'm trying to make healthier decisions, I've swapped the unhealthy sweet treats to a couple of pieces of dark chocolate or one or two of these treat balls!
Tämä resepti on kaikille makean ystäville, jotka kuitenkin haluavat elää terveellisesti ja välttää rasvaisten herkkujen syömistä. Minä olen itse ehdottomasti suuri makean ystävä ja pystyisin varmaankin syömään kokonaisen suklaalevyn yhdeltä istumalta, mutta koska yritän tehdä terveellisiä valintoja, olen vaihtanut epäterveelliset herkut pariin palaan tummaa suklaata tai yhteen tai kahteen tällaiseen herkkupalloon!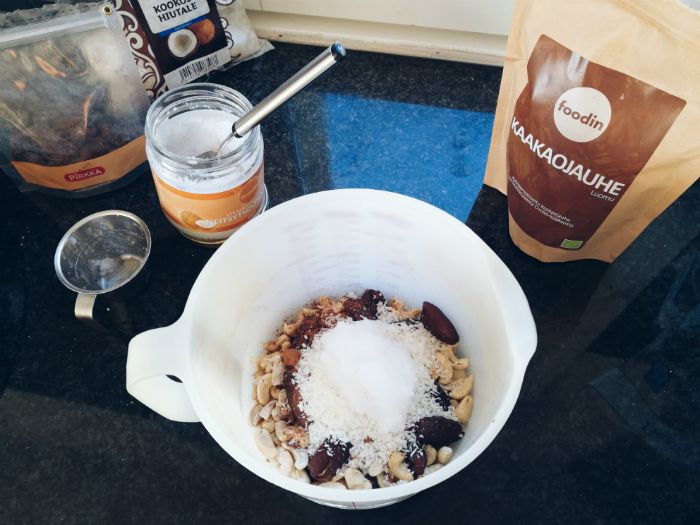 The ingredients that you will need for these delicious chocolatey treats are the following:
2½ dl cashews and almonds
2½ dl dates
2 tbsp raw cacao powder
½ dl coconut oil
½ dl shredded coconut

Tarvitset näitä suklaisia herkkupalloja varten seuraavat ainekset:
2½ dl cashew-pähkinöitä ja manteleita
2½ dl taateleita
2 rkl raakakaakaojauhetta
½ dl kookosöljyä
½ dl kookoshiutaleita


I recommend cutting the almonds and cashews into smaller pieces first (I didn't and regretted it haha) because if you will use a similar hand mixer as I did, it will take a lot of time to get everything properly crushed and mixed. Then simply put all the ingredients together in a bowl and use a hand mixer (or you could use a blender) to mix everything together. Once everything is blended well, form small balls from the dough and roll them in shredded coconut. Then place them in the fridge until they have cooled down and enjoy! ♡
Suosittelen ensiksi pilkkomaan cashew-pähkinät ja mantelit pienemmiksi palasiksi (mä en tehnyt niin ja kaduin sitä haha), sillä jos käytät samanlaista sauvasekoitinta kuin minä, pähkinöiden murskaaminen ja kaikkien ainesten sekoittaminen kestää melko kauan. Tämän jälkeen laita kaikki ainekset kippoon ja käytä sauvasekoitinta (tai vaikka blenderiä) sekoittamaan kaikki kunnolla keskenään. Muodosta sitten taikinasta pieniä palloja ja pyöritä pallot kookoshiutaleissa. Sen jälkeen laita herkkupallot pariksi tunniksi jääkaappiin jäähtymään ja nauti!
♡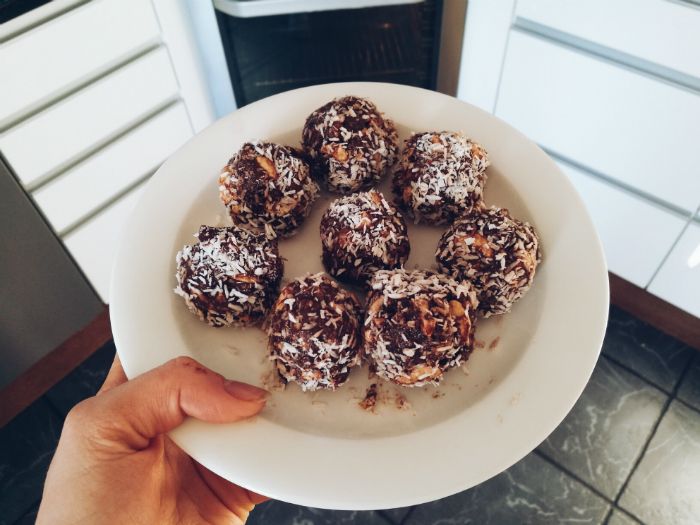 I absolutely love these treats when I'm craving something sweet! Let me know if you decide to try this recipe out! Tip: these can easily be made into a great after workout-snack as well by adding a scoop of protein powder into the mix!
Nämä herkkupallot ovat mun ehdottomia lemppareita kun kaipaan jotain makeaa! Kertokaa mitä pidätte jos päätätte kokeilla tätä reseptiä! ps. Näistä saa tehtyä myös hyviä treenin jälkeisiä välipaloja lisäämällä joukkoon protskujauhetta.