Enjoy the little things in life, because one day you will look back, and realize that they were the big things.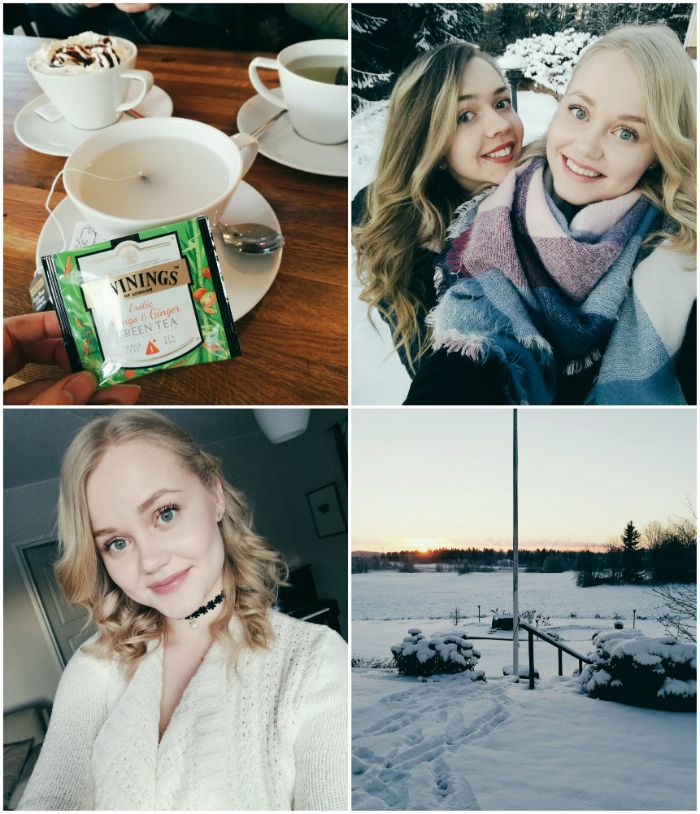 Tea moment in Pella's café with friends
♡
// Lovely Pilvi came for a visit
♡
// Great lighting for a selfie, haha // So pretty outside! I'm loving the snow!

Only one more full day in Finland before I head back to Amsterdam! I'm surprisingly quite sad to leave, because we only just got what I had wished for a long time - a bunch of snow! I haven't experienced proper winter in two years because I was in Australia and I don't even mind the minus million degrees because it is so freaking beautiful at the moment!
Viimeisiä hetkiä Suomessa viedään! Vähän surettaa lähteä, koska vasta toissapäivänä saatiin tänne kunnon lumet ja ulkona on niin kaunista! En oo kahteen vuoteen päässyt kokemaan kunnon talvea koska olin Ausseissa niin ei mua haittaa edes nuo paukkupakkaset koska ulkona on vaan niin upeen näköistä.

I celebrated the New year in Helsinki this time with a bunch of girls that I got to know in Sydney! It was so nice to see them - this was our first reunion in 2 years with all of us! Unfortunately I didn't take too many photos so none on the blog either! We had so much fun chatting, cooking together, playing some drinking games and eventually partying and celebrating the New year in Aussie club! Next day we went to a sushi buffet, went shopping and played a bunch of board games!
Uuden vuoden vietin Helsingissä tytsyjen kanssa, joihin tutustuin aikanaan Sydneyssä! Nähtiin porukalla ekaa kertaa kahteen vuoteen ja oli kyllä tosi ihanaa, mutta harmikseni en ottanut kauheasti kuvia. Juteltiin, kokkailtiin, pelattiin juomapelejä ja mentiin juhlistamaan uutta vuotta Aussie clubille vanhojen muistojen kunniaksi! Seuraavana päivänä saapuivat vielä loput porukasta - käytiin sushibuffetissa, shoppailemassa ja pelattiin lautapelejä.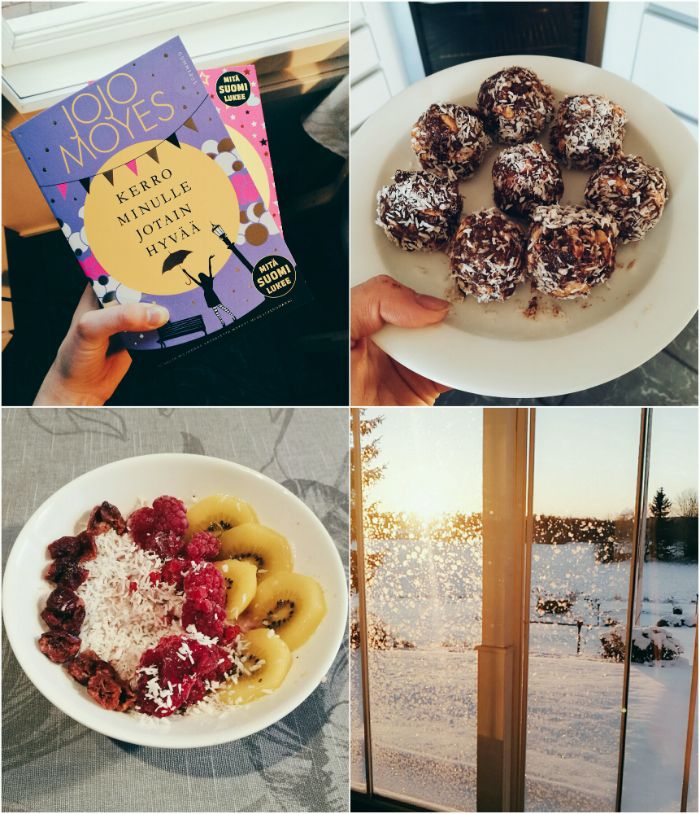 Me before you by Jojo Moyes - defintely recommend! // Made these amazing guilt-free chocolate treats! I'll put the recipe here on the blog soon! // Yummy breakfast the other day - oat bowl with kiwi, raspberries, dried cranberries and coconut flakes! // Such a gorgeous sunrise!
After Helsinki I visited my grandparents in Jyväskylä (visit in short - 24/7 food coma haha) and since then I've been just enjoying my last moments home reading, baking and with friends! Tomorrow we'll go to a restaurant with the fam to celebrate my mom's 50th in advance and the rest of the time I'll be spending packing and taking care of errands before heading to Amsterdam!
Ehdinpä vielä käymään Jyväskylässäkin mummin ja papan luona (reissu tiivistettynä 24/7 ruokakooma...) ja nyt viime päivät oon viettänyt kotona kavereita nähden, lukien ja leipoen! Huomenna mennään perheen kanssa ravintolaan syömään ja juhlistamaan äidin tulevia 50-v synttäreitä vähän etuajassa ja sit mun pitääkin hoitaa loput pakkailut ja järjestelyt ennen Amsterdamiin paluuta! Saa nähdä milloin seuraavan kerran pääsen tulemaan kotiin!
Have a lovely weekend peeps!
♡
ps. I just made a new instagram account @koaella if you'd like to follow me! :)
Viettäkää ihana viikonloppu ihanat!
♡
ps. just tein uuden instagram-tilin @koaella jos haluatte seurailla mua!